Sequoyah robotics team 49th in world competition
http://www.cherokeephoenix.org/Article/Index/4894
Condensed by Native Village
[A special thanks to Paul E. Taylor]
Oklahoma: Last March, four Sequoyah High School robotics teams participated in the VEX Robotics Design System World Championship.
One of the teams placed 49th.

" ... this was world and there were teams from all over the world," said Sequoyah junior, LaDonna Ballard. "There were teams from China and Indonesia, pretty much everywhere. So it was a really big thing. It was a really big experience."

The VEX Robotics Design System gives students a platform to learn about careers in science, technology, engineering
and math. VEX robotics projects also encourage teamwork, leadership and problem solving.

For the past four years, Sequoyah High School's robotics teams have participated in Oklahoma competitions and won several awards. This was the team's first year in the world competition.
"One of the reasons we started the robotics program at Sequoyah is that it is a hands on way of learning," said Daniel Faddis, Sequoyah robotics team leader. "... One of the things I find neat about it is that the fact that the way our Cherokee elders used to teach their children and stuff. It was a hands on way of teaching, and so to me robotics brings traditional teaching methods to a modern science."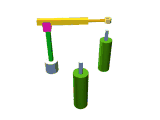 This year's teams were required to design a robot that could grab tubes and place them on pegs at different levels and heights. Extra points were given if the robot could climb a ladder and stay there.
"We had a design period of about two weeks of just coming up with ideas and brainstorming," Ballard said. "The actual building and working on it was about three or more weeks."
During the offseason when the team isn't building for competitions, members meet two days a week. During the building season, they meet four or five nights a week.



Faddis said the team shared a special moment during the competition's opening ceremonies.
"One of the key things [was carrying] in the Cherokee Nation flag in to represent us as a sovereign nation," Faddis said, "and it was pretty moving to the kids because we were behind Canada and in front of China, and so when you're in between two major countries of the world like that it's pretty impressive."