Florida State Mascot Upsets Native Americans In Oklahoma
http://www.newson6.com/
Condensed by Native Village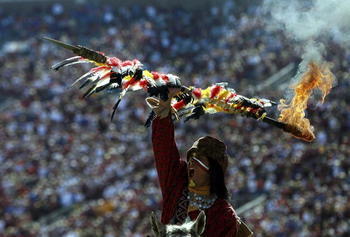 Oklahoma: Last month, the Oklahoma Sooners played the Florida State Seminoles. It was a big game in college football.
But some Oklahomans, especially Native Americans, were too disgusted to watch. They are offended by Florida State's mascot, Chief Osceola.
"Why would I want to watch something as racist as that?" Narcomey asked.

Narcomey is a member of the Seminole Nation of Oklahoma. He's spent 30 years fighting the use of Native American images as college and university mascots.
But the Seminole Tribe of Florida doesn't see it that way. The Tribe endorses FSU's Indian Chief and works with the University on its image. The chief of the Seminole Tribe of Florida considers it an honor.


And because of that the NCAA allows Florida State to continue using the Seminoles as their mascot.

But Narcomy says mascots like Chief Osceola and other racist images are hurtful, and there's piles of research and documents to prove it. Most affected are Native American children and their self image.
"They think they're doing something positive, but they're not. Not in the eyes of native people and native kids specifically. I have yet to see one person from a fan to give me a research paper to say why it's a positive thing. It hasn't been done." Narcomey, Oklahoma Seminole
In 2001, the Five Civilized Tribes in Oklahoma passed a resolution that they are against Indian mascots in general. But the Oklahoma Seminole Nation has not taken an official stance one way or another on Osceola.